what our customer's say
My Husband is in love with his Beard Comb which he received for his first Fathers Day. Thank you so much for such a wonderful product :)

Stephanie
Looks great and works great. Super quick to deliver too.

Stephen
This was a gift my brother in law. He loves the darn thing and didn't put it away the entire weekend. Definitely an awesome gift!

Kelsey
My husband loves it. He said it is so convenient!

Sherika
He loves his beard comb entirely! Can't go wrong with beards, bottle openers and he's a fan of switch blades so was thrilled that it was a switch comb. Came pretty fast too for international shipping. The green is very dark though in person.

Brianna
Ordered as a gift and the person loves it, fast delivery and great quality. Thank you

Emma
Perfect gift for well-groomed friend. Very high quality. Fast shipping to the Midwest!

Jane
Fantastic great gifts for the fellas at our wedding. Thankyou

Gold Lamb
as seen in


our brand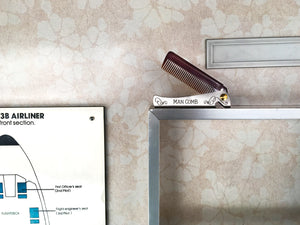 DAFT® Design And Fresh Thinking
An independent product design company. Creating inovative products with cutting edge design and manufacturing.
We stand for 'Design And Fresh Thinking' because creating great looking products isn't enough, each DAFT® product has new ideas and solutions.
We're excited about the new product lines we have in development and look forward to sharing them with you soon.
The Man Comb
Our first commercial product the 'Man Comb' was launched on Kickstarter. Since then we've expanding the range, which now include Limited Edition, Special Edition and our popular personalised combs.
This year we're releasing our first material upgrade of the Man Comb since it's launch. The new 'Carbon' Man Comb is made from a new type of carbon fibre composite, making them tougher than any other type of molded comb.
This along with the new etching design is the last step in our kaizen process of refining every aspect of the design and manufacture.
Innovative Male Grooming (aka SEO bollox)
Complete the look with a genuine Italian Tan leather case to keep your grooming tool looking fresh . Whether you choose to use your Man Comb as a styling tool for your beard, hair, or for the bottle opener feature, it's sure to become an essential part of your everyday carry.
Whether you're just searching for the best men's hair comb or a useful multifunctional tool, the personalised combs are a perfect gift for men. Our classic and vintage style combs come in Orginal, Limited Edition, Art Deco Special Edition and the new bombproof Carbon comb, the ultimate men's grooming tool. I might hide discount voucher in here somewhere just to see if anyone actually reads this crap. We have it all right here!